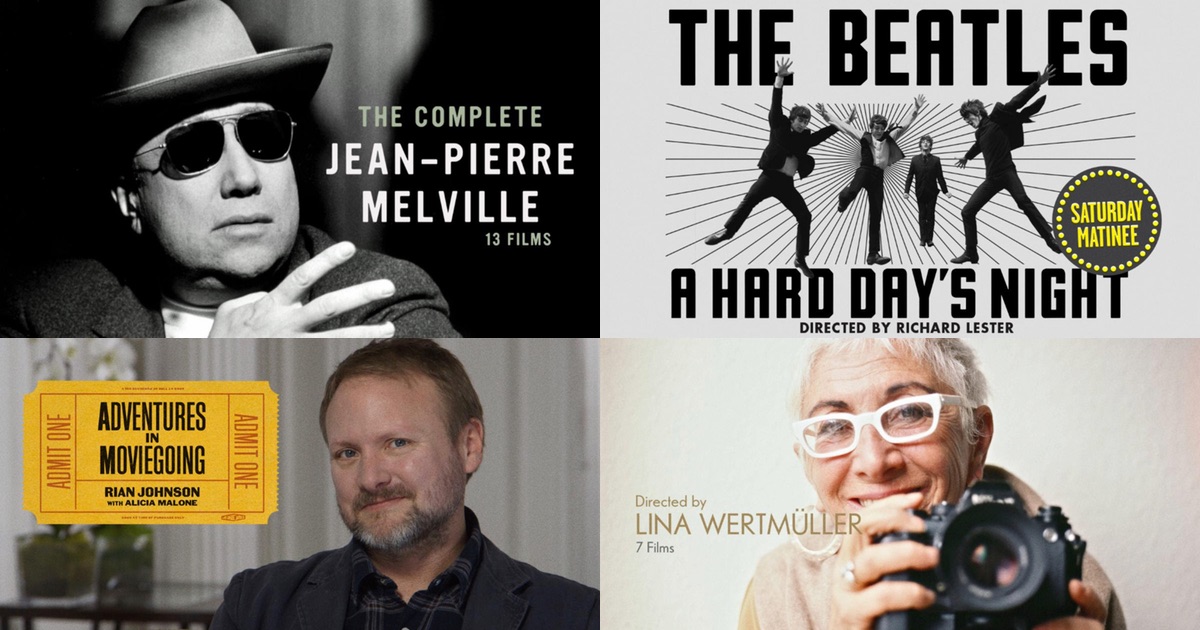 Each month, the programmers at the Criterion Channel produce incredible line-ups for their subscribers. For September, the Channel will feature films from Claire Denis, Christian Petzold, Lina Wertmüller, and more!
Below you'll find the programming schedule for the month, along with a complete list of titles that Criterion has in store for us. Don't forget to check the Criterion Channel's main page regularly though, as they occasionally will drop surprises that aren't included in the official press release.
Don't subscribe yet? Start a 14-day free trial.
Sunday, September 1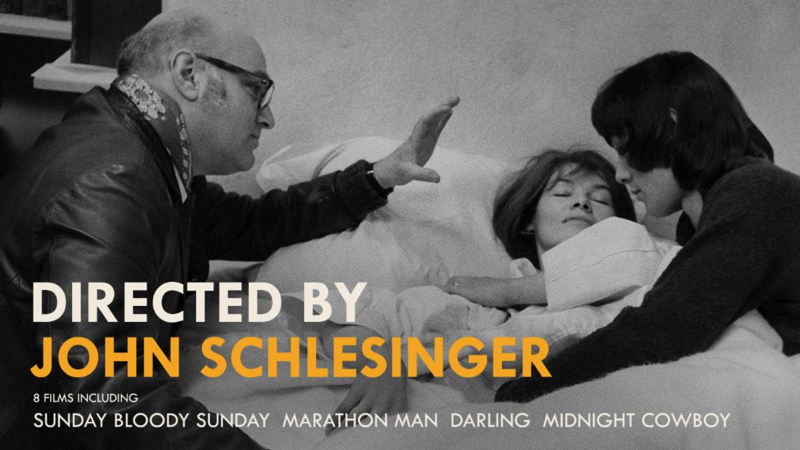 Directed by John Schlesinger
Featuring a new introduction by Schlesinger's nephew, cultural historian Ian Buruma
A sensitive chronicler of outsiders, outcasts, and dreamers searching for human connection, John Schlesinger flourished first as part of the British New Wave of the sixties and then in the New American Cinema of the seventies. Beginning his film career as an actor and documentarian—experiences that would inform his masterful handling of performers and hone his keen sense of naturalism—Schlesinger emerged as one of the leaders of the "kitchen sink" school of British realism with his narrative debut, A Kind of Loving, and classics like Billy Liar and Darling. He went on to make some of the most daring and exciting films of the era, including the X-rated Academy Award winner Midnight Cowboy, the taboo-shattering bisexual romance Sunday Bloody Sunday (a landmark of queer representation by an openly gay filmmaker), and the intense thriller Marathon Man. Featuring career-high performances from frequent stars like Julie Christie, Dustin Hoffman, and Peter Finch, these films stand as humane portraits of the changing gender, sexual, and social dynamics of Schlesinger's time.
A Kind of Loving, 1962
Billy Liar, 1963
Darling, 1965
Midnight Cowboy, 1969
Sunday Bloody Sunday, 1971
Marathon Man, 1976
Honky Tonk Freeway, 1981
The Falcon and the Snowman, 1985
Monday, September 2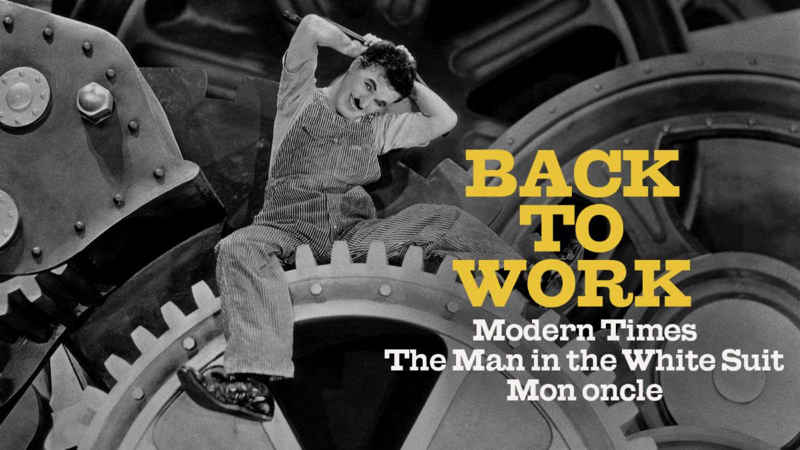 Back to Work
This Labor Day, celebrate—or commiserate—on your hard-earned day off with three brilliant comedies that find humor in the contradictions and complications of the modern industrial workplace. Featuring Alec Guinness as an idealistic inventor going up against the Man, Jacques Tati's Monsieur Hulot as an old-fashioned gent beset by new fangled consumerism, and Charlie Chaplin's Little Tramp as a cog literally stuck in the machinery of modern life, these films celebrate the spirit and decency of the hard working little guy.
Modern Times, Charlie Chaplin, 1936
The Man in the White Suit, Alexander Mackendrick, 1951
Mon oncle, Jacques Tati, 1958
Tuesday, September 3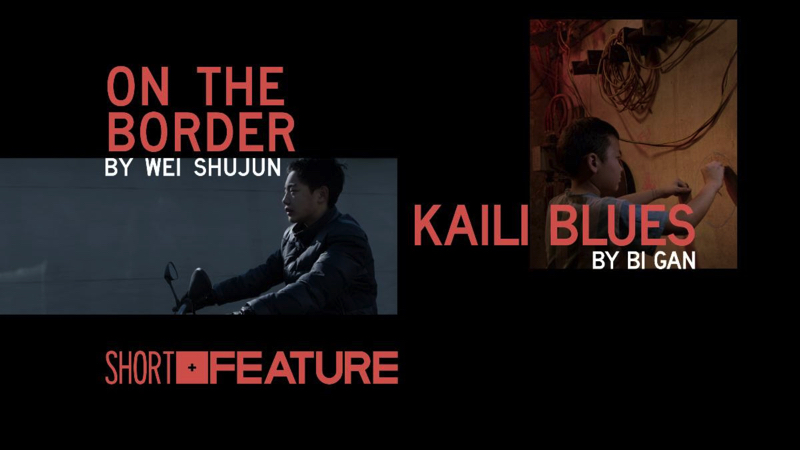 Short + Feature: Long Roads Home
On the Border and Kaili Blues
Two rising-star Chinese filmmakers explore themes of identity and connection to one's roots in these dreamy, hypnotic road movies. Winner of a special jury prize at Cannes, Wei Shujun's On the Border is a moody, poetic immersion into the world of a young man drifting through the margins of a desolate town as he searches for his father. Things get even more hallucinatory in Bi Gan's mesmerizing debut feature, Kaili Blues, a time- and space-collapsing journey through rural China built around an astonishing forty-one-minute tracking shot.
Wednesday, September 4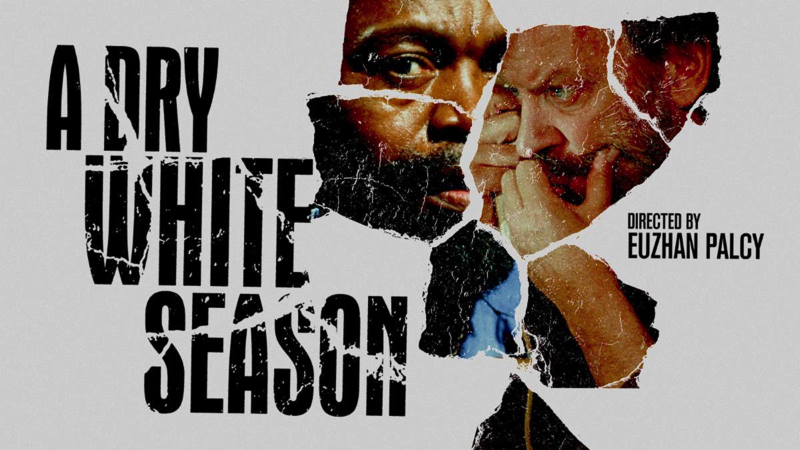 A Dry White Season: Criterion Collection Edition #953
With this bracing drama, made at the climax of the anti-apartheid movement, director Euzhan Palcy issued a devastating indictment of South Africa's racist government—and made history in the process, becoming the first black woman to direct a Hollywood studio film. White schoolteacher Ben Du Toit (Donald Sutherland) lives in Johannesburg and remains blissfully incurious about the lives of his black countrymen until a wave of brutal treatment comes crashing down on his gardener (Winston Ntshona), bringing Du Toit face-to-face with harsh political realities. Based on a celebrated novel by André Brink and rooted in the first-hand research the Martinican Palcy did in South Africa into the way black people lived under apartheid, A Dry White Season is unflinching in its depiction of violence and its chronicling of injustice, making for a galvanizing tribute to those willing to sacrifice everything to fight oppression. SUPPLEMENTAL FEATURES: Interviews with Euzhan Palcy and Donald Sutherland, an excerpt from a 1995 interview Palcy conducted with Nelson Mandela, and more.
Thursday, September 5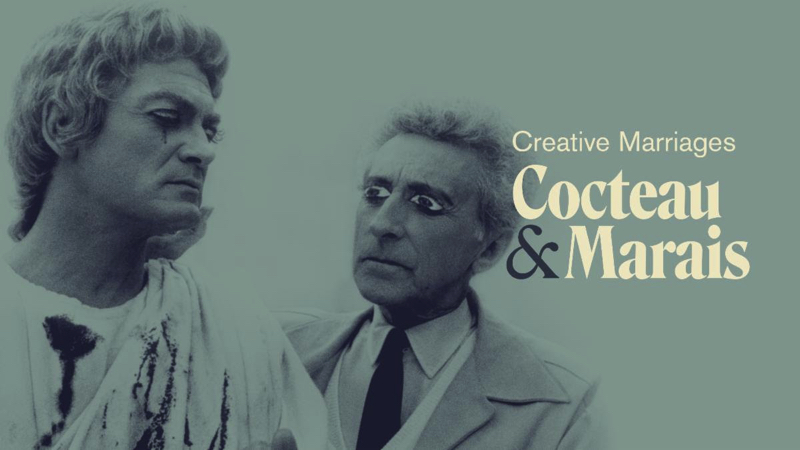 Creative Marriages: Jean Cocteau and Jean Marais
Visionary artist, playwright, poet, and filmmaker Jean Cocteau found the perfect muse around whom to construct his lyrical, surreal dream worlds in the dashing Jean Marais, the golden-boy actor who would become both his lifelong creative collaborator and lover. Two of their immortal classics—the ravishing fairytale Beauty and the Beast and the mythic masterpiece Orpheus—are presented with an introduction by critic Michael Sragow, who discusses how these two very different but complementary artists came together to form one of the most miraculous actor-director partnerships in French cinema.
Beauty and the Beast, Jean Cocteau, 1946
Orpheus, Jean Cocteau, 1950
Friday, September 6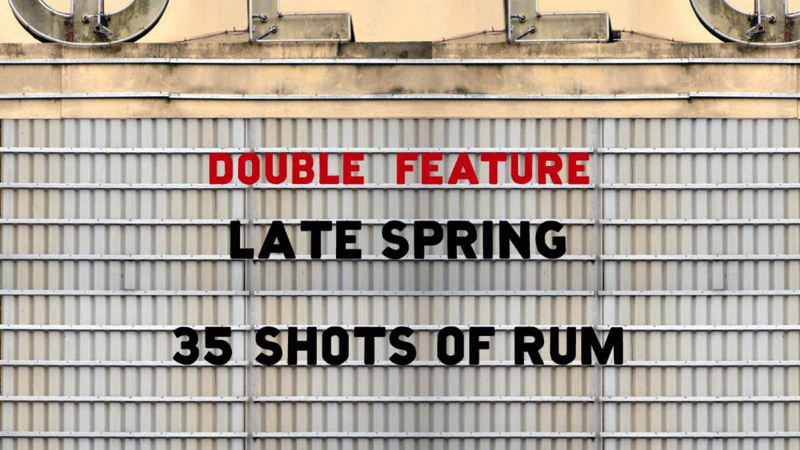 Double Feature: She's Leaving Home
Late Spring and 35 Shots of Rum
For her gorgeous, minutely observed exploration of family bonds 35 Shots of Rum, Claire Denis was inspired by one of Yasujiro Ozu's most masterful domestic dramas—in which the relationship between a widowed father and his devoted daughter is complicated by the arrival of an attractive young man—to create perhaps her warmest and most tenderly human film to date. Each a delicate emotional balancing act imbued with moments of quiet transcendence, these twin masterpieces convey profound truths with infinite subtlety and grace.
Saturday, September 7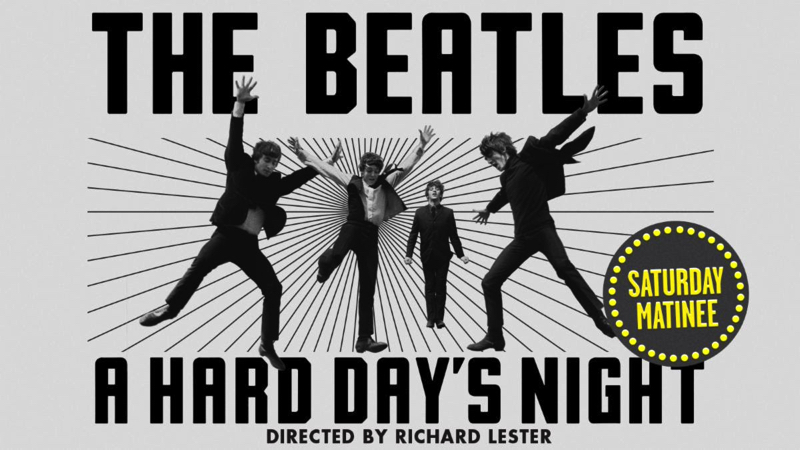 Saturday Matinee: A Hard Day's Night
Meet the Beatles! Just one month after they exploded onto the U.S. scene with their Ed Sullivan Show appearance, John, Paul, George, and Ringo began working on a project that would bring their revolutionary talent to the big screen. A Hard Day's Night, in which the bandmates play cheeky comic versions of themselves, captured the astonishing moment when they officially became the singular, irreverent idols of their generation and changed music forever. Directed with raucous, anything-goes verve by Richard Lester and featuring a slew of iconic pop anthems, including the title track, "Can't Buy Me Love," "I Should Have Known Better," and "If I Fell," A Hard Day's Night, which reconceived the movie musical and exerted an incalculable influence on the music video, is one of the most deliriously entertaining movies of all time. SUPPLEMENTAL FEATURES: An audio commentary featuring members of the cast and crew, documentaries on the film, a short film by Richard Lester, and more.
Sunday, September 8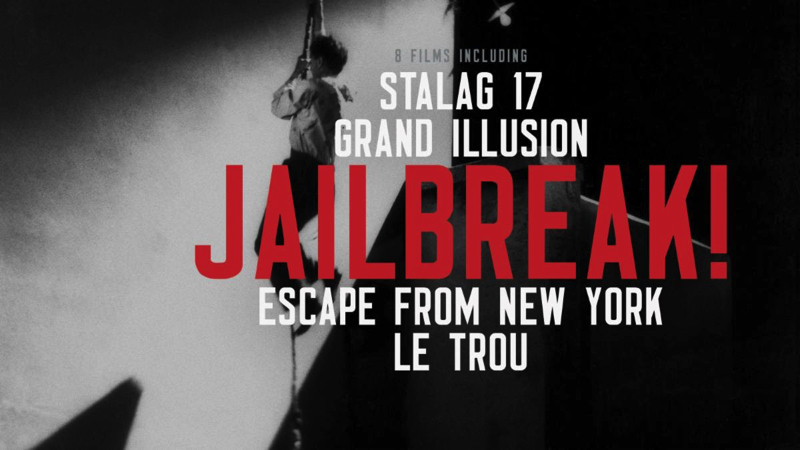 Jailbreak!
With pulse-pounding tension and life-or-death drama baked into its premise, the prison-break movie is the ne plus ultra of cinematic suspense. From the gut-punching grit of Jules Dassin's Brute Force to the taut minimalism of Robert Bresson's A Man Escaped and the dystopian spectacle of John Carpenter's Escape from New York, these joint-busting classics find master filmmakers putting their own thrilling spin on the art of the escape.
Grand Illusion, Jean Renoir, 1937
Brute Force, Jules Dassin, 1947
Raw Deal, Anthony Mann, 1948
Stalag 17, Billy Wilder, 1953
A Man Escaped, Robert Bresson, 1956
Le trou, Jacques Becker, 1960
Escape from New York, John Carpenter, 1981
Down By Law, Jim Jarmusch, 1986
Monday, September 9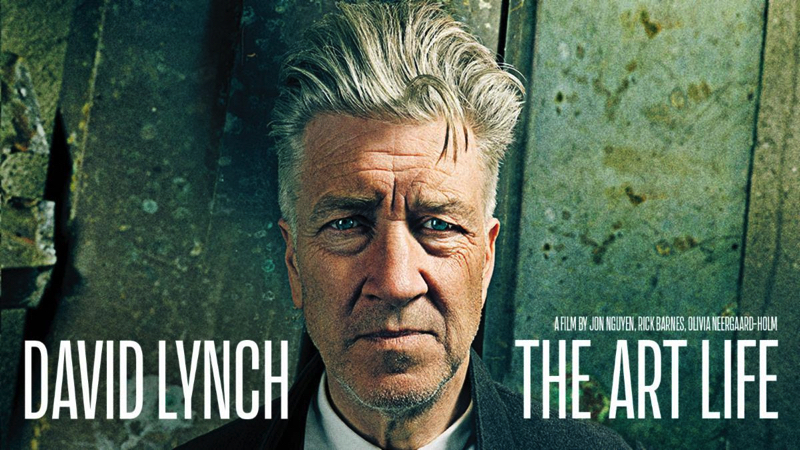 David Lynch: The Art Life: Criterion Collection Edition #895
A rare glimpse into the mind of one of cinema's most enigmatic visionaries, David Lynch: The Art Life offers an absorbing portrait of the artist, as well as an intimate encounter with the man himself. From his secluded home and painting studio in the Hollywood Hills, a candid Lynch conjures people and places from his past, from his boyhood to his experiences at art school to the beginnings of his filmmaking career—in stories that unfold like scenes from his movies. This remarkable documentary by Jon Nguyen, Rick Barnes, and Olivia Neergaard-Holm travels back to Lynch's early years as a painter and director drawn to the phantasmagoric, while also illuminating his enduring commitment to what he calls "the art life": "You drink coffee, you smoke cigarettes, and you paint, and that's it." SUPPLEMENTAL FEATURES: An interview with codirector Jon Nguyen.
Tuesday, September 10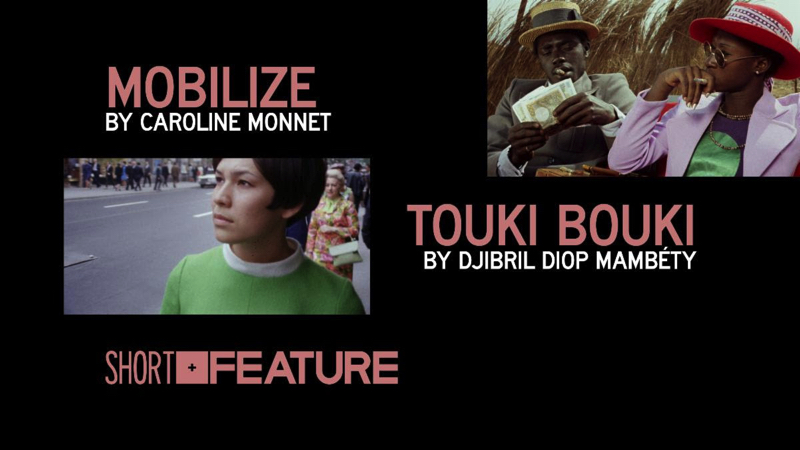 Short + Feature: Reclaimed Images
Mobilize and Touki Bouki
Two boundary-pushing filmmakers bring an experimental edge to these dazzling explorations of colonialism, tradition, and modernity. A featured work in this year's Whitney Biennial, Algonquin-French artist Caroline Monnet's short Mobilize is an exhilarating, rhythmically edited collage crafted from found footage of Canada's indigenous First Nations people. Its whirlwind avant-garde technique makes it a bracing companion to Djibril Diop Mambéty's landmark Touki Bouki, which bristles with a similarly kinetic energy in its freewheeling portrait of a pair of restless young lovers in 1970s Senegal.
Wednesday, September 11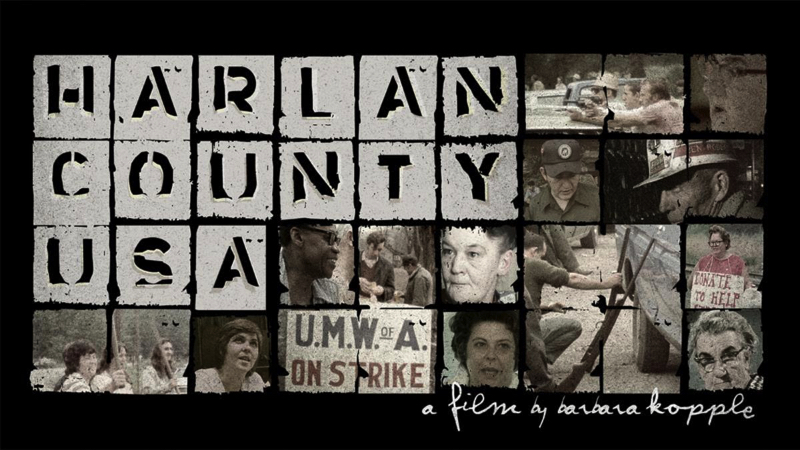 Harlan County USA: Criterion Collection Edition #334
Barbara Kopple's Academy Award–winning Harlan County USA unflinchingly documents a grueling coal miners' strike in a small Kentucky town. With unprecedented access, Kopple and her crew captured the miners' sometimes violent struggles with strikebreakers, local police, and company thugs. Featuring a haunting soundtrack—with legendary country and bluegrass artists Hazel Dickens, Merle Travis, Sarah Gunning, and Florence Reece—the film is a heartbreaking record of the thirteen-month struggle between a community fighting to survive and a corporation dedicated to the bottom line. SUPPLEMENTAL FEATURES: An audio commentary by Barbara Kopple and editor Nancy Baker, a documentary on the making of the film, an interview with Hazel Dickens, and more.
Friday, September 13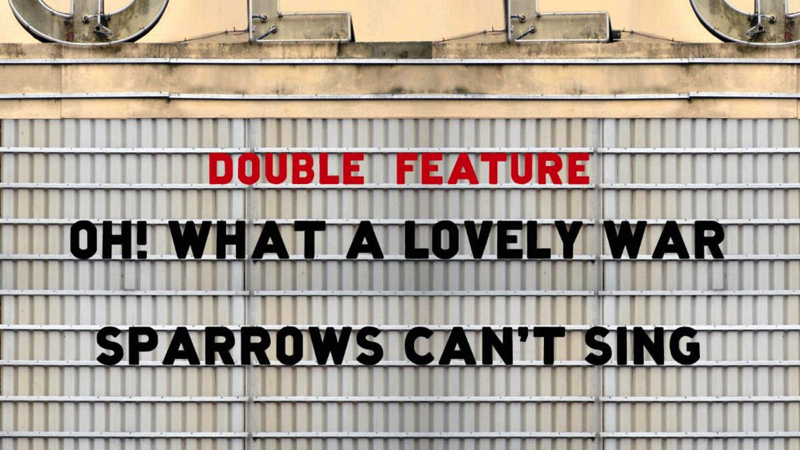 Double Feature: Drama Queen of England
Oh! What a Lovely War and Sparrows Can't Sing
Dubbed the "mother of modern theater," iconoclastic director Joan Littlewood revolutionized the British stage with her groundbreaking experimental production of the stinging World War I musical satire Oh! What a Lovely War—which was subsequently turned into an acclaimed film directed by Richard Attenborough with an all-star cast including Maggie Smith, Dirk Bogarde, John Gielgud, and Laurence Olivier. The only film directed by Littlewood, Sparrows Can't Sing is a vivid, freewheeling portrait of East End London in the 1960s that displays the same improvisational spirit and commitment to working-class authenticity that distinguished her stage work.
Saturday, September 14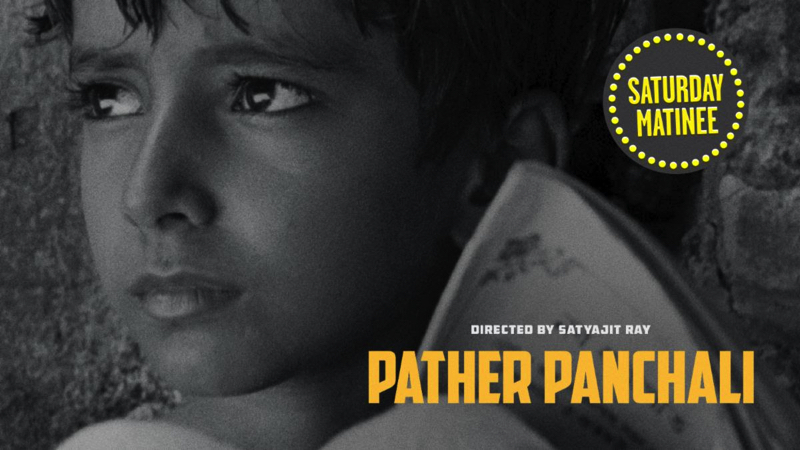 Saturday Matinee: Pather Panchali
With the release in 1955 of Satyajit Ray's debut, Pather Panchali, an eloquent and important new cinematic voice made itself heard all over the world. A depiction of rural Bengali life in a style inspired by Italian neorealism, this naturalistic but poetic evocation of a number of years in the life of a family introduces us to both little Apu and, just as essentially, the women who will help shape him: his independent older sister, Durga; his harried mother, Sarbajaya, who, with her husband away, must hold the family together; and his kindly and mischievous elderly "auntie," Indir—vivid, multifaceted characters all. With resplendent photography informed by its young protagonist's perpetual sense of discovery, Pather Panchali, which won an award for Best Human Document at Cannes, is an immersive cinematic experience and a film of elemental power. SUPPLEMENTAL FEATURES: Interviews with members of the cast and crew, an audio recording of Satyajit Ray reading from his essay "A Long Time on the Little Road," and a documentary excerpt featuring composer Ravi Shankar.
Sunday, September 15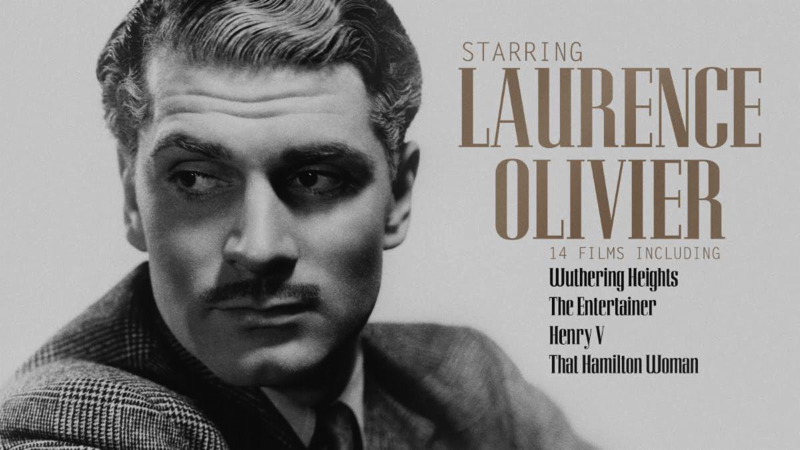 Starring Laurence Olivier
Featuring a 1973 interview with Olivier
Heralded by many as the greatest actor of his generation, Laurence Olivier wed the gravitas of a classically trained thespian with the dashing charisma of a modern movie star. After conquering the London stage in the 1930s, he found success on-screen with his iconic portrayal of the brooding Heathcliff in William Wyler's classic adaptation of Wuthering Heights. He went on to cement his reputation as the leading Shakespeare interpreter of the era by directing and starring in some of the finest adaptations of the Bard ever committed to film, including the lavish Technicolor spectacle Henry V and the Academy Award–winning Hamlet, to which he brought fresh psychological insight and a dynamic expressionist style. Continuing to work tirelessly throughout his later career, he was lacerating as a washed-up music hall performer in Tony Richardson's The Entertainer, memorably terrifying as a sadistic Nazi dentist in John Schlesinger's Marathon Man, and appropriately poignant in his final film appearance in Derek Jarman's War Requiem.
Perfect Understanding, Cyril Gardner, 1933
Fire over England, William K. Howard, 1937
The Divorce of Lady X, Tim Whelan, 1938
Wuthering Heights, William Wyler, 1939
Q Planes, Tim Whelan, Arthur B. Woods, 1939
That Hamilton Woman, Alexander Korda, 1941
49th Parallel, Michael Powell, 1941
Henry V, Laurence Olivier, 1944
Hamlet, Laurence Olivier, 1948
Richard III, Laurence Olivier, 1955
The Entertainer, Tony Richardson, 1960
Oh! What a Lovely War, Richard Attenborough, 1969
Marathon Man, John Schlesinger, 1976
War Requiem, Derek Jarman, 1989
Monday, September 16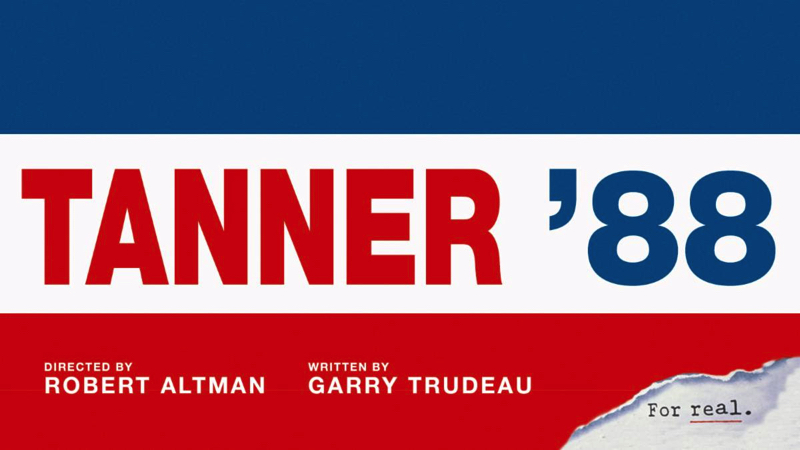 Tanner '88: Criterion Collection Edition #258
In 1988, renegade filmmaker Robert Altman and Pulitzer Prize–winning Doonesbury cartoonist Garry Trudeau created a presidential candidate, ran him alongside the other hopefuls during the primary season, and presented their media campaign as a cross between a soap opera and TV news. The result was the groundbreaking Tanner '88, a piercing satire of media-age American politics, in which actors Michael Murphy (as contender Jack Tanner) and Cynthia Nixon (as his daughter) rub elbows on the campaign trail with real-life political players Jesse Jackson, Gary Hart, Bob Dole, Ralph Nader, Kitty Dukakis, and Gloria Steinem, among many others. The Criterion Channel is proud to present the complete eleven-episode television series—more relevant today than ever. SUPPLEMENTAL FEATURES: Episode introductions featuring members of the cast and a conversation between Robert Altman and Gary Trudeau.
Tuesday, September 17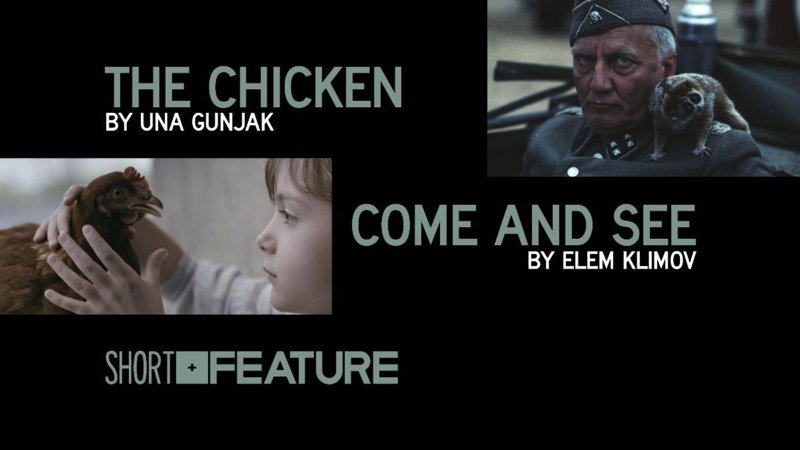 Short + Feature: War-Torn Youth
The Chicken and Come and See
The ravages of war are seen through the eyes of its youngest victims in these shattering tales of children forced to grow up too soon. Una Gunjak's The Chicken is a wrenchingly intimate look at the 1990s Bosnian War as experienced by a young girl only just awakening to the violence that surrounds her. Then, a teenage boy gets a devastating firsthand introduction to the horrors of World War II when he joins the Belarusian resistance in Elem Klimov's harrowing masterpiece Come and See, one of the most intense and haunting antiwar films of all time.
Wednesday, September 18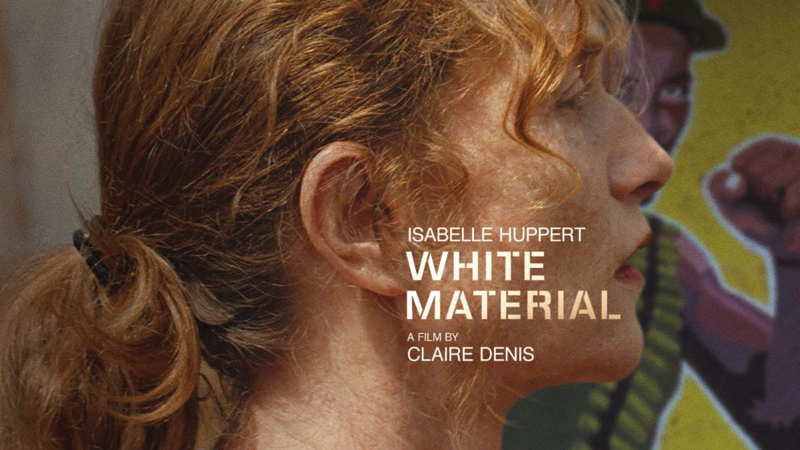 White Material: Criterion Collection Edition #560
In White Material, the great contemporary French filmmaker Claire Denis, known for her restless, intimate dramas, introduces an unforgettably crazed character. Played by a ferocious Isabelle Huppert, Maria is an entitled white woman living in Africa, desperately unwilling to give up her family's crumbling coffee plantation despite the civil war closing in on her. Created with Denis's signature full-throttle visual style, which places the viewer at the center of the maelstrom, White Material is a gripping evocation of the death throes of European colonialism and a fascinating look at a woman lost in her own mind. SUPPLEMENTAL FEATURES: Interviews with Claire Denis and actors Isabelle Huppert and Isaach de Bankolé, a short documentary by Denis on the film's premiere in Cameroon, and more.
Thursday, September 19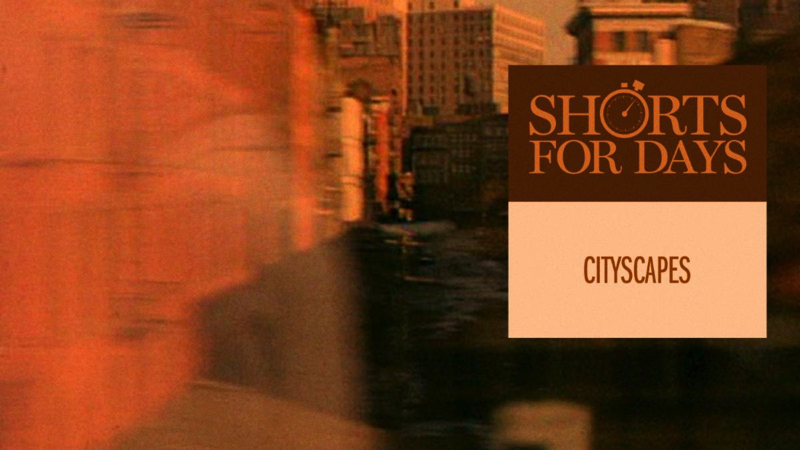 Shorts for Days: Cityscapes
Featuring a new introduction by Criterion Channel programmer Penelope Bartlett
The sights and sounds, hustle and bustle of the modern metropolis have long inspired filmmakers to develop a corresponding cinematic language to capture its frenetic energy. From the dizzying head-rush of Manhattan as seen through the kaleidoscopic lenses of D. A. Pennebaker and Hollis Frampton to the sly wit of Jean Vigo's droll portrait of a French resort town to the idiosyncratic musings of Chris Marker's offbeat Chinese travelogue, these miniature city symphonies pulse with the rhythms and happenstance poetry of the urban landscape.
À propos de Nice, Jean Vigo and Boris Kaufman, 1930
N.U., Michelangelo Antonioni, 1948
Daybreak Express, D. A. Pennebaker, 1953
Sunday in Peking, Chris Marker, 1956
Surface Tension, Hollis Frampton, 1968
The Black Balloon, Josh Safdie and Benny Safdie, 2012
Friday, September 20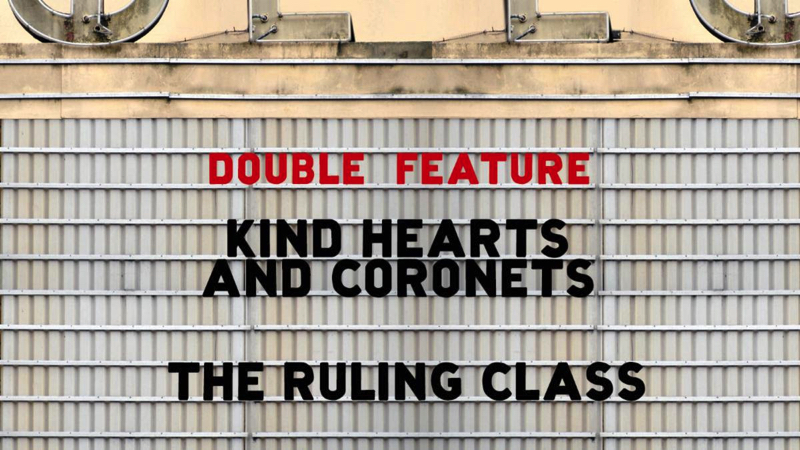 Double Feature: Murder Most Funny
Kind Hearts and Coronets and The Ruling Class
Murder, insanity, and revenge are the macabre ingredients of these devilish black comedies, wicked send-ups of the British class system carried off with a droll, distinctively English wit. In the Ealing Studios classic Kind Hearts and Coronets, the chameleonic Alec Guinness plays the eight members of an aristocratic family standing between a scheming distant relation and the title of duke. Nothing a little homicide can't fix! Equally virtuosic is Peter O'Toole's whirlwind turn as a delusional nobleman who thinks he's Jack the Ripper in the dark satire The Ruling Class, a gleefully irreverent takedown of the sacred pillars of English society.
Saturday, September 21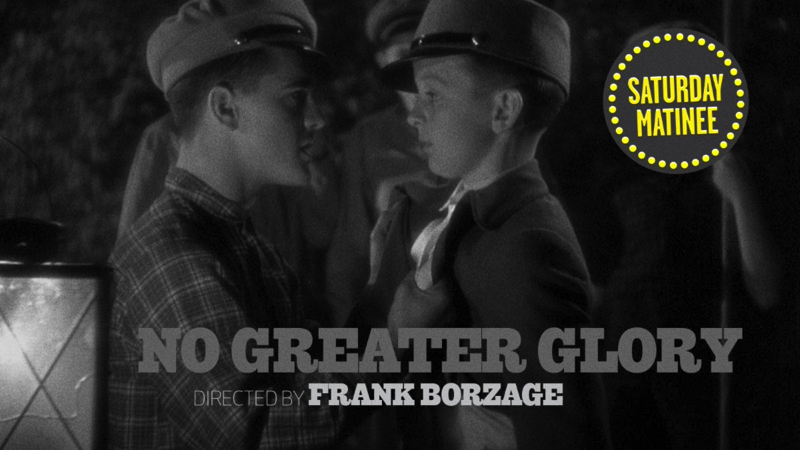 Saturday Matinee: No Greater Glory
One of the unsung masterpieces of 1930s cinema, this adaptation of Ferenc Molnár's novel The Paul Street Boys concerns the conflict that erupts between two rival street gangs—a group of kids versus a band of older boys—as they fight for the right to play in a vacant lot. When the frail young Nemeecsek (George P. Breakston) gets involved in the scuffle, the boys' war games become all too real. Sensitively directed by Frank Borzage, who invests this searing allegory with depths of profound human feeling, No Greater Glory stands as one of the greatest and most powerful antiwar films ever made.
Sunday, September 22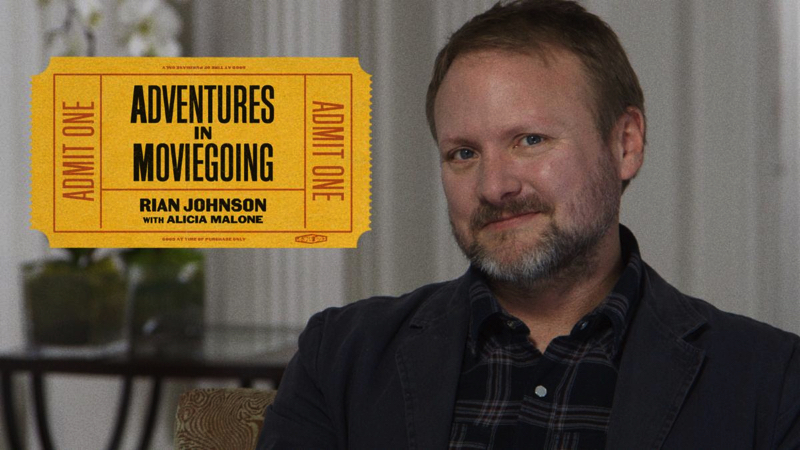 Rian Johnson's Adventures in Moviegoing
The director of inventive indie hits like Looper and Brick, Rian Johnson brought his unique sensibility to the multiplex with the 2017 blockbuster Star Wars: The Last Jedi. A passionate cinephile, he sat down with Alicia Malone to present a lineup of favorites that unsurprisingly reflect his fascination with dark science fiction and troubled psychological undercurrents. From a time-traveling short by Chris Marker to a dystopian epic by Rainer Werner Fassbinder and Shane Carruth's sui generis head trip Upstream Color, his selections display the same intelligent, inventive approach to genre that he brings to his own work.
La Jetée, Chris Marker, 1963
8½, Federico Fellini, 1963
World on a Wire, Rainer Werner Fassbinder, 1973
F for Fake, Orson Welles, 1975
Stalker, Andrei Tarkovsky, 1979
Upstream Color, Shane Carruth, 2013
Tuesday, September 24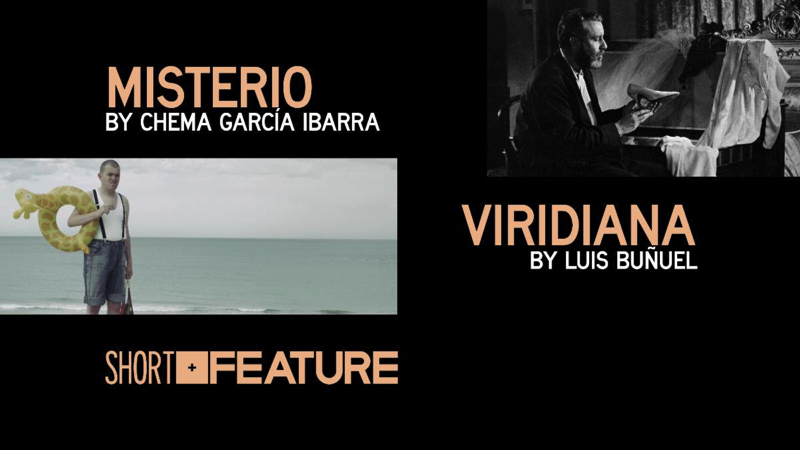 Short + Feature: Hail Mary Full of Grace?
Misterio and Viridiana
Two Spanish films take a decidedly irreverent view of the Catholic faith. The Virgin Mary speaks to a believer through the back of a man's neck in the 2013 short Misterio, by Spanish filmmaker Chema García Ibarra, an avowed devotee of Luis Buñuel. Then, a devout nun struggles through a fallen world in Buñuel's 1961 masterpiece Viridiana, which was roundly denounced by the Vatican upon its premiere.
Wednesday, September 25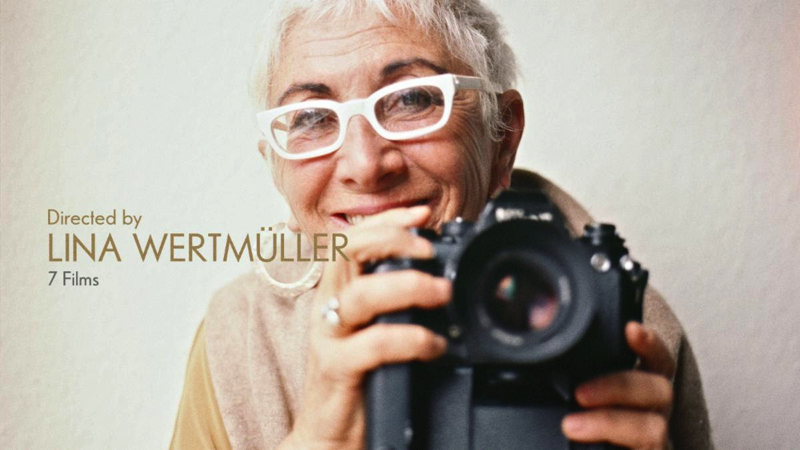 Directed by Lina Wertmüller
Featuring Behind the White Glasses, a documentary portrait of Wertmüller by Valerio Ruiz, from 2015
Provocative, outrageous, and larger-than-life, the films of Italian iconoclast Lina Wertmüller thrilled and shocked audiences alike in the 1970s with their heady blend of sex, politics, and satire. The first woman nominated for a best director Oscar—for her succès de scandale Seven Beauties—Wertmüller frequently courted controversy with her uncompromisingly idiosyncratic takes on gender and class in audacious seriocomedies like The Seduction of Mimi and Swept Away. As irreverently caustic and wickedly entertaining as ever, her films stand as incendiary and trenchant commentaries on the rifts—between men and women, the North and the South, capitalism and communism, the powerful and the powerless—within Italian society.
The Seduction of Mimi, 1972
Love and Anarchy, 1973
All Screwed Up, 1974
Swept Away, 1974
Seven Beauties, 1975
Summer Night, 1986
Ferdinando and Carolina, 1999
Thursday, September 26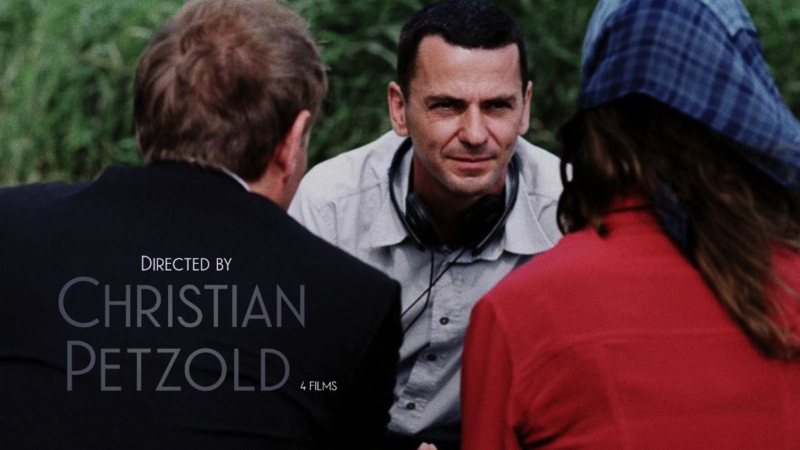 Directed by Christian Petzold
Featuring a new introduction by critic Girish Shambu
Past and present seem to coexist in an uneasy state somewhere between dreams and waking reality in the films of contemporary German auteur Christian Petzold. Toying with classic genre conventions—horror, thriller, noir, melodrama—he obsessively reworks them to create quietly riveting, slow-burn spellbinders that speak both to the trauma of Germany's turbulent twentieth-century history and to the political anxieties of contemporary life. All starring his frequent collaborator, the mesmerizing Nina Hoss, these films—including his international breakout Jerichow and the stunning World War II mystery Phoenix—are at once elegantly restrained and profoundly emotional reflections on lives in limbo.
Yella, 2007
Jerichow, 2008
Barbara, 2012
Phoenix, 2014
Friday, September 27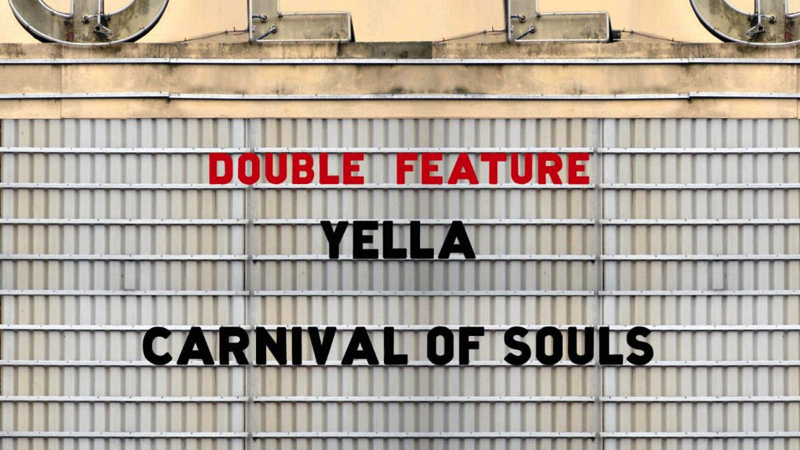 Double Feature: Phantom Worlds
Yella and Carnival of Souls
A loose remake of Herk Harvey's legendary surrealist nightmare Carnival of Souls, Christian Petzold's acclaimed metaphysical thriller Yella similarly follows a woman who, after surviving a car accident, finds herself adrift in a haunted world—in this case, the soulless corporate limbo of post-reunification Germany. While the horror may be less overt than in Harvey's cult classic, the sense of existential dread and spectral mystery is no less chilling.
Saturday, September 28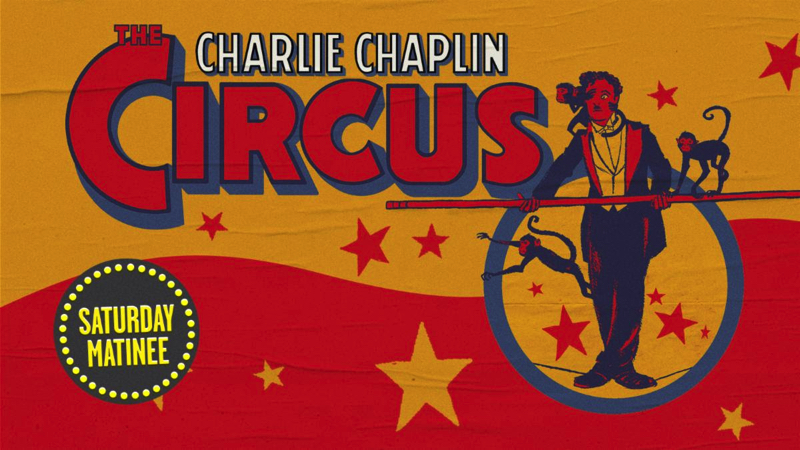 The Circus: Criterion Collection Edition #996
In the last film he made during the silent era, Charlie Chaplin revels in the art of the circus, paying tribute to the acrobats and pantomimists who inspired his virtuoso pratfalls. After being mistaken for a pickpocket, Chaplin's Tramp flees into the ring of a traveling circus and soon becomes the star of the show, falling for the troupe's bareback rider along the way. Despite its famously troubled production, this gag-packed comedy ranks among Chaplin's finest, thanks to some of the most audacious set pieces of the director-performer's career, including a close brush with a lion and a climactic tightrope walk with a barrelful of monkeys. The Circus, which was rereleased in 1969 with a new score by Chaplin, is an uproarious high-wire act that showcases silent cinema's most popular entertainer at the peak of his comic powers. SUPPLEMENTAL FEATURES: An audio commentary featuring Chaplin biographer Jeffrey Vance, an interview with Chaplin, outtakes, documentaries on the film, and more.
Sunday, September 29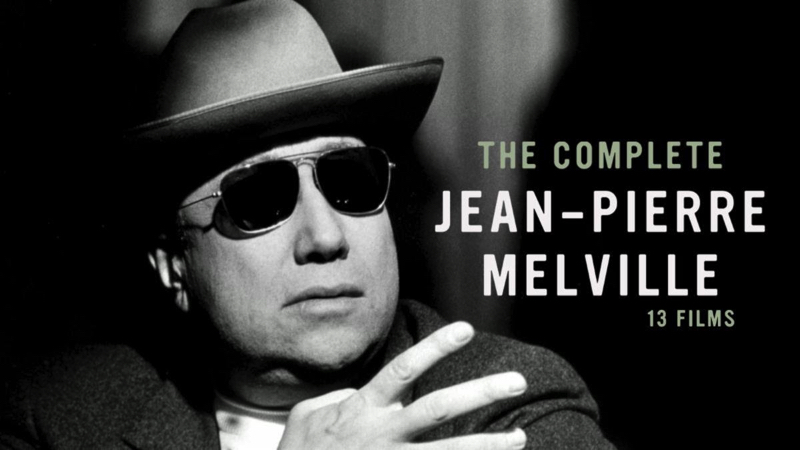 The Complete Jean-Pierre Melville
Featuring a profile of Meville from the series Cinéastes de notre temps
Take a helping of American pulp cinema, add a twist of French cool, and a dash of Japanese samurai lore, and you've got the maverick sensibility of Jean-Pierre Melville, a trench-coat-sporting, sunglasses-wearing, chain-smoking renegade auteur who made movies according to his own rules and laid the groundwork for the French New Wave. Maintaining an extraordinary degree of creative independence throughout his career, he forged a distinctive style characterized by a hard-boiled minimalism and existentialist worldview in stylishly spartan crime dramas like Bob le flambeur, Le doulos, Le samouraï, and Le cercle rouge, frequently starring ice-cool icons like Alain Delon and Jean-Paul Belmondo as his lone wolf antiheroes. While best known for his noirs, Melville's work outside the genre was equally fascinating, as seen in the outré psychosexual drama Léon Morin, Priest and the haunting French Resistance epic Army of Shadows, considered by many to be his masterpiece.
24 Hours in the Life of a Clown, 1946
Le silence de la mer, 1949
Les enfants terribles, 1950
When You Read This Letter, 1953
Bob le flambeur, 1956
Two Men in Manhattan, 1959
Leon Morin, Priest, 1961
Le doulos, 1962
Magnet of Doom, 1963
Le deuxième souffle, 1966
Le samouraï, 1967
Army of Shadows, 1969
Le cercle rouge, 1970
Un flic, 1972
Monday, September 30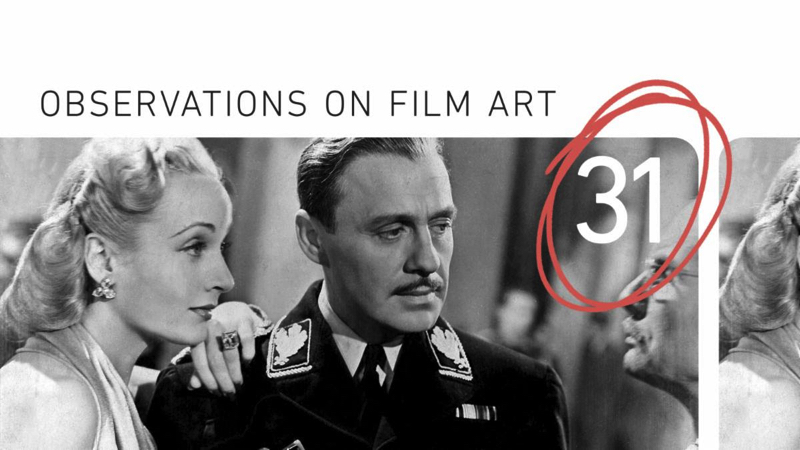 Observations on Film Art #31: Comedy, Suspense, and Three-Point Lighting in To Be or Not To Be
In his audacious political satire To Be or Not to Be, Ernst Lubitsch pulls off the seemingly impossible by using a deadly serious, then-unfolding crisis—the Nazi occupation of Poland—as the backdrop for a hilarious and subversive screwball comedy. In this episode of Observations on Film Art, Professor Kristin Thompson explores how Lubitsch and cinematographer Rudolph Maté make sophisticated use of lighting to mark the film's daring shifts in in tone and genre, from farce to espionage thriller to dark drama.
Complete list of films premiering on the Criterion Channel this month:
35 Shots of Rum, Claire Denis, 2008**
A Dry White Season, Euzhan Palcy, 1989
A Kind of Loving, John Schlesinger, 1962
All Screwed Up, Lina Wertmüller, 1974
Barbara, Christian Petzold, 2012
Behind the White Glasses, Valerio Ruiz, 2015
Billy Liar, John Schlesinger, 1963
Bob le flambeur, Jean-Pierre Melville, 1956
The Chicken, Una Gunjak, 2014
Darling, John Schlesinger, 1965
David Lynch: The Art Life, Jon Nguyen, Rick Barnes, and Olivia Neergaard-Holm, 2016
Escape from New York, John Carpenter, 1981
The Falcon and the Snowman, John Schlesinger, 1985
Ferdinando and Carolina, Lina Wertmüller, 1999
Fishing with John, John Lurie, 1992
Fire over England, William K. Howard, 1937
Grand Illusion, Jean Renoir, 1937
Honky Tonk Freeway, John Schlesinger, 1981**
Jerichow, Christian Petzold, 2008**
Le cercle rouge, Jean-Pierre Melville, 1970
Le doulos, Jean-Pierre Melville, 1962
Le trou, Jacques Becker, 1960
Leon Morin, Priest, Jean-Pierre Melville, 1961
Les misérables, Raymond Bernard, 1934
Love and Anarchy, Lina Wertmüller, 1973
Marathon Man, John Schlesinger, 1976
Midnight Cowboy, John Schlesinger, 1969
Mobilize, Caroline Monnet, 2015**
Of Mice and Men, Lewis Milestone, 1939
Oh! What a Lovely War, Richard Attenborough, 1969
On the Border, Wei Shujun, 2018
Perfect Understanding, Cyril Gardner, 1933
Phantom India, Louis Malle, 1969
The Seduction of Mimi, Lina Wertmüller, 1972
Seven Beauties, Lina Wertmüller, 1975
Sparrows Can't Sing, Joan Littlewood, 1963
Stalag 17, Billy Wilder, 1953
Summer Night, Lina Wertmüller, 1986
Sunday Bloody Sunday, John Schlesinger, 1971
Swept Away, Lina Wertmüller, 1974
Two Men in Manhattan, Jean-Pierre Melville, 1959
Un flic, Jean-Pierre Melville, 1972
Upstream Color, Shane Carruth, 2013
War Requiem, Derek Jarman, 1989
When You Read This Letter, Jean-Pierre Melville, 1953**
Wuthering Heights, William Wyler, 1939
Yella, Christian Petzold, 2007**
**Not available in Canada